Food has always played a vital role in bringing communities together, and the same rings true for folks in Michigan. From a diner-style Philly steak to juicy BBQ ribs and brewed beer, the best restaurants in Michigan serve it all. That's why locals say that you can't visit Michigan without enjoying food from some of the most popular and best restaurants in Michigan. To help upgrade your food experience, mentioned below are the ten best restaurants in Michigan you cannot miss out on.
Top 10 Best Restaurants in Michigan
1.     The Detroiter Bar, Detroit
For the best burger experience in the Metro City, you have got to head over to The Detroiter Bar! They have been serving freshly ground chuck burgers since 1989. From different types of sandwiches and burgers to soups and salads, the Detroiter Bar offers an impressive menu. Need some suggestions? How about the Detroiter Burger is an absolute favorite? Covered in Swiss and American cheese and served with ham and bacon, this absolute favorite is served on a fresh sesame bun.
Source: https://cdn.vox-cdn.com/thumbor/GvjibpEFCXjEBthIPb6I7fLM_28=/88×0:811×430/920×613/filters:focal(404×26:556×178):format(webp)/cdn.vox-cdn.com/uploads/chorus_image/image/62884547/The_Detroiter_Bar.0.jpg
2.     Jean Kay's Pasties and Sub, Marquette
If you happen to live in the small city of Marquette, MI, you haven't had the true local experience until you try the best Pasties from Jean Kay's Pasties and Sub. Unlike the ground bed pasties, these are filled with chopped steak and covered with a sizzling sauce that's bursting with flavor. Jean Kay has been serving pasties with other items like subs, salsa, Gyros, and brownies for forty years! You can also order their frozen pasties to make at home!
Source: https://i2.wp.com/thepastyguy.com/wp-content/uploads/2016/10/jeankays.jpg?resize=1024%2C768&ssl=1
3.     Redcoat Tavern. Royal Oak & West Bloomfield
Suppose you're in the mood for a juicy beef burger. If so, head over to Redcoat Tavern! The eatery specializes in preparing gourmet hamburgers, giving you ample options to modify them according to your tastes. Other than hamburgers, they also serve different salads, soups, entrees, appetizers, and desserts. You'll find Redcoat Tavern in both Royal Oak and West Bloomfield, so get ready to go into a major food coma.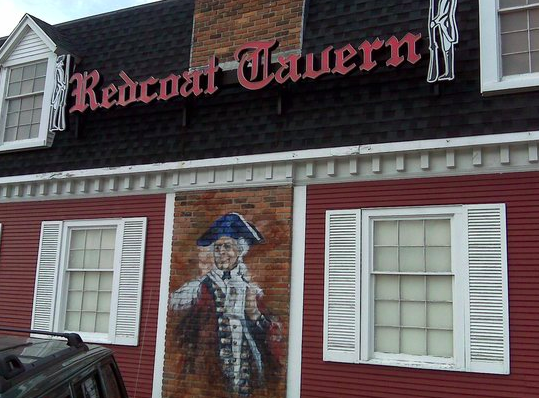 4.     Amore Trattoria Italiana
You can now experience some exquisite fine dining in the Grand Rapids at Amore Trattoria Italiana. This is one of the best restaurants in Michigan, offering Italian delights that are purely irresistible. From their special chocolate liquor, and Ligurian chickpea fitters, to the mouth-watering arancini, this place is perfect to satiate your appetite, especially on special occasions. So make sure to stop by to taste Italian delights in Michigan at Amore Trattoria Italiana.
5.     Chillangos Mexican Grill, Jackson
Chillangos Mexican grill is your go-to Michigan restaurant if you're craving some heat! Located in Longfellow Avenue, Jackson, MI, and run by an energetic couple, Carlos and Rachel, their food doesn't disappoint. You won't grow tired of getting Chillangos as they always have something new to offer and serve you the highest quality of Mexican foods. You will surely enjoy their creative drinks, along with traditional Mexican eats like the enchiladas and a variety of tacos. Need a suggestion? In that case, the red snapper taco will take you by surprise. It'll be a treat for your tummy and for the eyes.
6.     Mr. Spots, Ann Arbor & Bowling Green
Mr. Spots is the go-to Philly steak stopover for all University of Michigan students, especially after an intense game of football. With two different locations, Ann Arbor and Bowling Green, Mr. Spots serves their famous Philly steaks and wings to countless Michiganders as well as tourists. With such an appealing menu, hence, it'll be hard to decide on just a few items. Regular customers highly recommend their famous Philly Original and wings for a true delight.
7.     Giovanni's, Detroit
For the best Italian fine dining experience in Michigan, head over to Giovanni's. Giovanni has been serving authentic food to Michiganders, including some of Hollywood's famous A-listers, since 1968. Originally known for their fantastic pizza, the restaurant is now known for their Lasagne al Forno lasagna dish layered with different fillings and ingredients. The result? An unforgettable culinary experience. Giovanni's has an amazing wine menu along with other exclusive foods and some sweet treats to end your meal on a sweeter note.
Source: https://img-aws.ehowcdn.com/700x/cdn.onlyinyourstate.com/wp-content/uploads/2019/02/Screen-Shot-2019-02-13-at-4.36.25-PM-700×425.png
8.     Daddy Pete's BBQ, Grand Rapids
Have you ever tried a BBQ food truck? Well, if you haven't, head over to Daddy Pete's right away for some freshly served saucy BBQ treats! Daddy Pete's has a variety of BBQ food items to offer! From smoked BBQ and ribbies to baked beans and their special 'Hot Mess,' which is a real treat. They also have a plant-based menu to appeal to health-conscious eaters and people following a vegan diet.
Source: https://www.grnow.com/wp-content/uploads/2016/12/IMG_1275.jpg
9.     Albion Malleable Brewing Co., Jackson
Another restaurant in Michigan, perfect for a burger treat, is the Albion Malleable Brewing Co. Who has been serving its gourmet signature burger since 2018, besides other items such as grilled cheese, sandwiches, salads, and much more? If you're a beer person who likes to match it with a filling burger combo, Albion Malleable Brewing Co. is the place for you. You can choose from a selection of fantastic beers for an unparalleled dining experience.
10.Sibley Gardens, Trenton
Since 1935, Trenton has been home to one of the best restaurants in Michigan, Sibley Gardens. An iconic eatery, Sibley Gardens' menu is popular for its variety, serving old school items like the steak Sammy and Vela Roberto. This dish includes a pound of meat served with roasted peppers and more. You can look forward to a lot more at Sibley Garden! From seafood and pasta to lots more, you'll definitely leave feeling full and refreshed. If you ever happen to find yourself in Trenton, Michigan, you already know your first stop for dinner.
Takeaway
It's not easy to shortlist the 10 best restaurants in Michigan, but these restaurants' distinguished and tasty food puts them ahead of the others. Visiting these places for a bit to eat will enhance your understanding of the Michigan food vibe.  If you want to know more, you can learn about real estate and other aspects of Michigan living on crownoint.com.
Related Posts