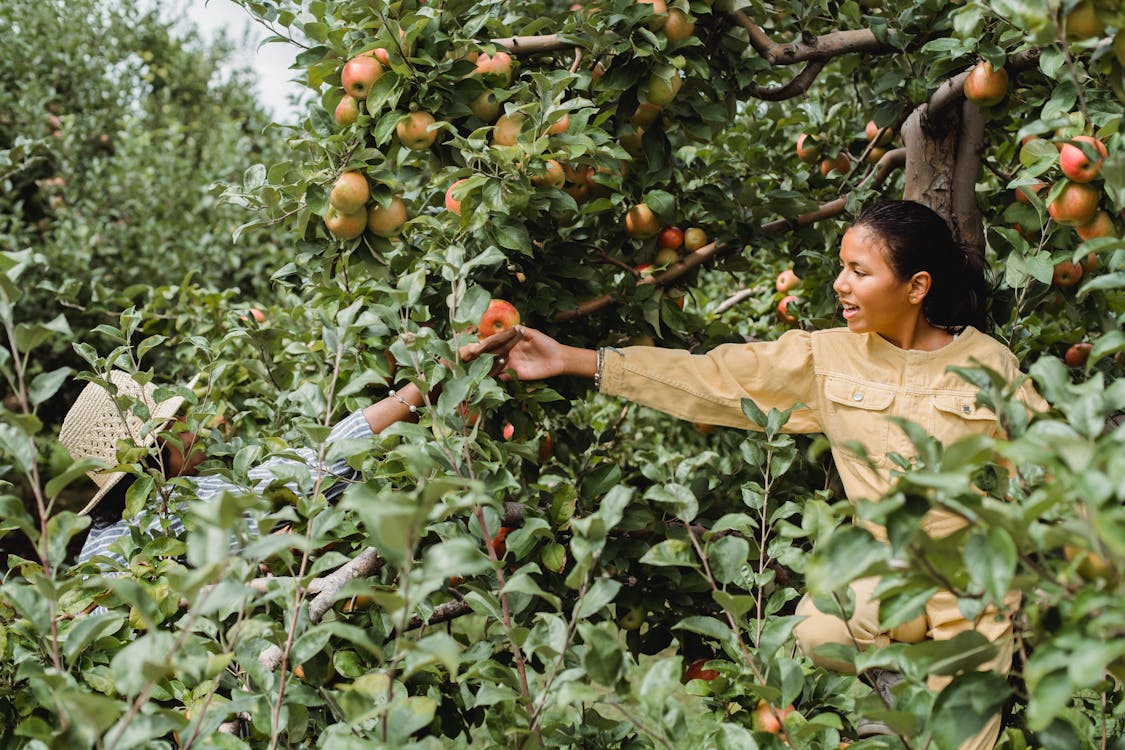 (Source)
Leaves have already embraced the colors of fall in Michigan, and the weather is becoming cozy. It is time to get comfortable and wear warm and cozy sweaters, enjoy pumpkin spice latte and apple pies and explore the exciting colors. The fall season in Michigan means visiting the best apple-picking orchards and finding the hardest cider mills.
You might already have plans to visit the apple-picking orchards this fall. If so, then remember, nothing is more joyful than picnicking and picking fresh apples. So, before you make the list of the best orchards in Michigan, here are some tips to help you choose the right locations.   The apple orchards that we list below are surely one of the best for enjoying with your friends and family this fall season. You can make the most delicious pies with fresh apples hand-picked from the best orchards in Michigan.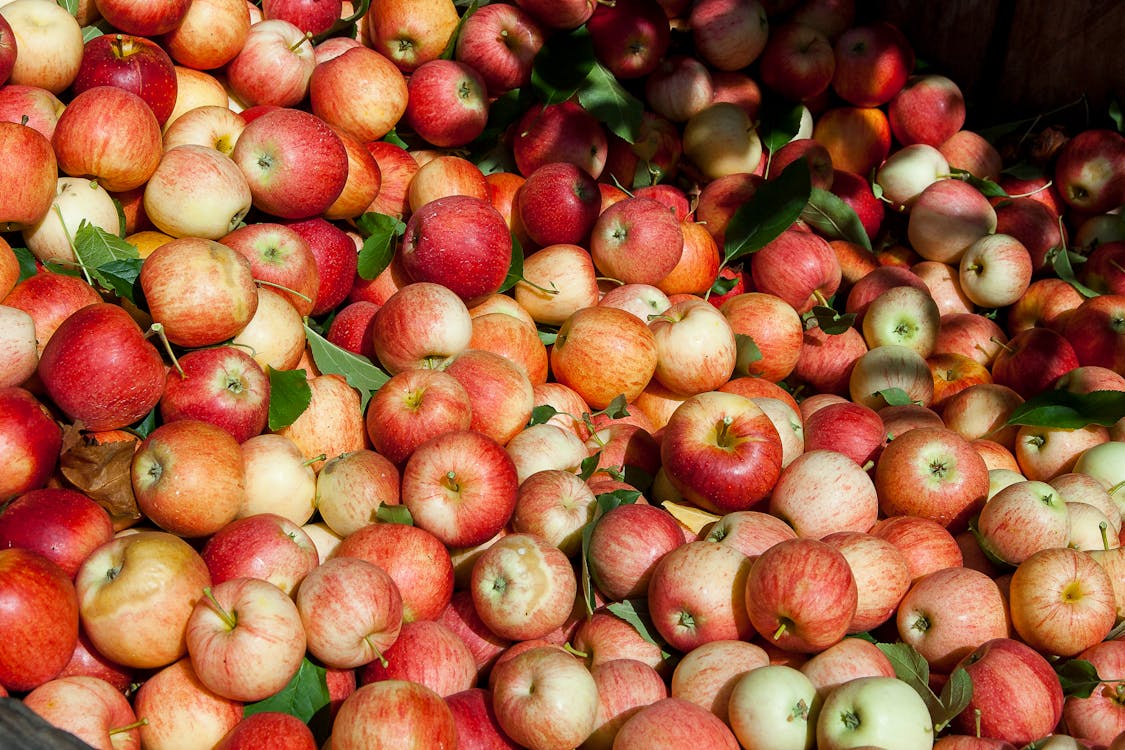 (Source)
This apple-picking orchard is among the most popular gardens filled with apples and cider in Michigan. It is near the Upper Peninsula in Stephenson. The farm is a family-owned business in the state and is soon to become a leading apple-picking orchard. We all crave juicy, citrus apples for pies, desserts, salads, and this orchard offers apples of over 10 varieties that you can pick with your friends and family. Schedule a one-day trip and take a tour around this fresh and beautiful orchard of apples to increase the joy of this upcoming fall season in Michigan.
Do you wish to enjoy a day trip to one of the best apple-picking orchards here in Ellsworth, Michigan? Well, Friske's Farm Market should be your choice, and there are several reasons for that. Firstly, this orchard offers the most popular apple varieties like Red Delicious, Gold Rush, and Gala. The U-pick season in this orchard begins around September, which is the best time to visit it with your friends.   For more enjoyment, you can have homemade breakfasts, pick gifts, and enjoy tasty meals from the bakery in the Friske's Farm Market.
Located in Rogers City, this orchard has some of the best dwarf and semi-dwarf apple varieties in the state. It offers 50 different types of apples that you can pick. Hence, planning a picnic at Knaebe's Apple Farm and Ciderworks will surely be one of the best activities this fall season. However, what makes this apple farm a perfect place to enjoy the fall season this year is that it offers a lush hardwood forest representing the colors of fall. You can click Instagram-worthy pictures with the most beautiful scenery in the background. This 13-acre farm of hand-picked and u-pick apples is mesmerizing and the choice of many families for a memorable day out in Michigan.
Uncle John's Cider Mill might be one of the most trending and hottest names on the list of the best apple-picking orchards this fall season. It is located in St. Johns and is a beautiful sight for all the travelers moving along the highway stretch. One glimpse of this cider mill will make you "fall" for it; the mill features a lush corn maze, apple orchards, and a landscape that depicts mid-Michigan.
From Northern Spy to Gala, this orchard offers the best apple varieties that families love to pick in the fall season in Michigan. Interestingly, this orchard is also famous for offering fresh and mouth-watering donuts of multiple flavors. For a day's trip, Uncle John's Cider Mill is the perfect spot in South Michigan.
If you are looking to explore the state of Michigan this fall season, don't forget to plan a trip to one of the best apple orchards, Blake's Orchard and Cider Mill, right here in Armada. It remains to be a Michigan-favorite apple orchard because it is open year-round. Plus, it offers the required amenities to make every visit the best day for a picnic.
Spread over an entire 120-acre farm, this orchard features apple trees and lush greenery. Therefore, you can explore the beauty of nature no matter what time of the year you choose to visit. Besides, a day's trip on this orchard will feel like a few hours' trip. Further, there is nearly everything you need to make it one of your best fall season experiences in Michigan, including a gift shop, play area, corn mazes, and a large market.
Did you know that people call Southwest Michigan the prime real estate or heaven for fruit lovers and growers? While you can find many beautiful sites, Jollay Orchards in Southwestern Michigan takes pride in producing an extensive range of fresh fruits. Further, you can pick as many fruits as you like depending on the time of the year. Well, there is more to it than just picking fruits.
You can find fruits like peaches, pumpkins, tart cherries, apples, and most of all, it features pond fishing and a haunted house for families' amusement. In addition, Jollay Orchards hosts a Harvest Festival annually, where you will find the haunted house, corn maze, and pond fishing.
Conclusion
Now, you know the best apple-picking orchards in Michigan. The best way to enjoy the fall season every year is by visiting these aromatic apple orchards in the state of Michigan. Not to mention, Michigan has a lot to offer in terms of facilities. These include public healthcare, education, financial developments, job opportunities, and recreational activities.
So, if you plan to move to Michigan and buy a home in one of the cities with the best apple orchards, we have you covered. Our team of professionals at Crown Properties International will guide you every step of the way. We cater to the needs of individuals and families looking to acquire real estate in Michigan.
With firm dedication and absolute client satisfaction, Crown Properties International is one of the best and leading firms in the real industry in Michigan. So, make an informed decision and trust us, whether you want to buy or sell a property.
Related Posts
(Source) You can find several properties in Livonia based on your requirements…

(Source) Trying to locate the best residential markets in Southeast Michigan to…

Whether you're looking for one story or two-story building, it's hard to…